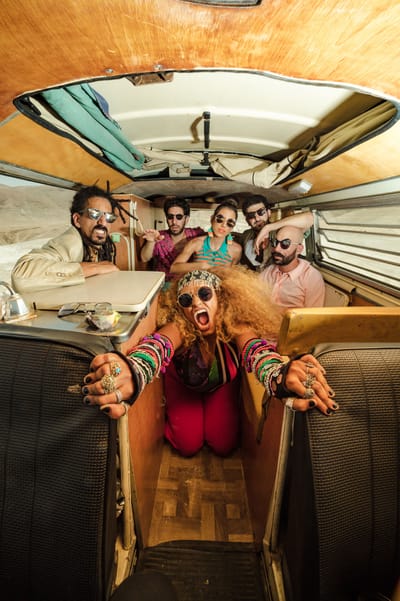 Bint El Funk is a pioneering groove band who has founded the genre Yemen Funk. Their debut album, "
Bint el Funk
" (daughter of Funk) was released in March 2016 after three years of performance in clubs and music festivals all over Israel, during which the band has attracted an enthusiastic and dedicated audience of fans. The band initially devoted itself to converting traditional Jewish Yemenite songs to a modern groove, but soon added original material to the pot, slowly creating a unique style, diverse, yet cohesive.
Few months ago, the second album by Bint El Funk was released, "
The Great & Glorious Yemenite Funky Thing
", This concept album deepens the study of Yemenite funk, and is full of psychedelic electricity carried on the desert winds.
Bint El Funk's style is based mainly on a combination of funk with traditional Jewish Yemenite music, influenced by Afro beat, jazz, Mediterranean music, psychedelic‐Turkish music and more. Alongside the Yemenite texts are love songs, social protest songs, Bedouin nonsense, and poetry. Each performance quickly becomes a native tribal party with sounds, rhythms, colors, and scents, which unite on a thread connecting Sana'a in Yemen, Harlem in the US, and the Shaariya neighborhood in Petach Tikva, Israel.

The music of Bint El Funk combines old and new, personal and universal, east and west; you could find your own story being told...